LOCATION:
The Bowling Green State University New York Voices Vocal Jazz Camp will be held at Bowling Green State University (BGSU) located in Bowling Green, Ohio.
The camp will take place in the Moore Musical Arts Center [Building 104 on the Campus Map]. Accomodations are available on campus and at THE Camp Hotel:
the Holiday Inn Express Bowling Green for a special rate of $79 per night. Call them at (419) 353-5500.
BG is a two and a half hour drive west from Cleveland, about one and a half hours south of Detroit and three hours north of Cincinnati.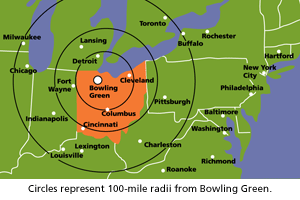 Interstate 75 borders the eastern edge of the campus; the University is located at Exit 181. U.S. Route 6 bypasses the south side of the city. Interstates 80 and 90 (the Ohio Turnpike) are only twenty minutes to the north; turnpike exit 64 provides the most direct route to the campus. Toledo Express Airport (TOL) is less than a forty-five minute drive northwest from campus.

International and domestic flights are also available from the following Airports:

Detroit (DTW), as well Cleveland (CLE), and Columbus (CMH).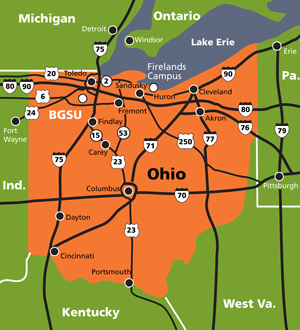 Driving Directions

From the E or W via the Ohio Turnpike

:

Use Exit 64 (Perrysburg). Follow I-75 South to Exit 181.

From the N or S via Interstate 75

:

Use Exit 181.

From the E or W via U.S. Route 6

:

Stay on U.S. 6. At the I-75 Interchange, follow I-75 north to the next exit (Exit 181).

Step-by-step driving directions from your address to BGSU are available at the following sites: Google, Microsoft, Yahoo!

Road Conditions

:

The Ohio Department of Transportation provides up-to-date information about road conditions online.